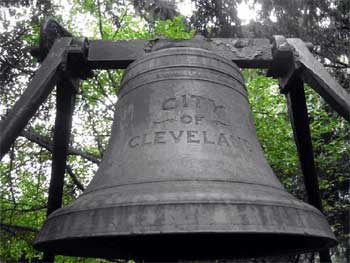 Results
On December 10 bids from across the region were counted with the auction reaching a high bid of $9,100.

The auction drew serious bidders from all over Michigan and Ohio. During the auction bidders learned about judging bell quality and about the ship City of Cleveland III. They learned the history of its collision and ultimate demise and heard the story of the Great Lake Erie Steamboat Race.

The bidding was serious and competitive. When the final bell rang the high bid was $9100.00.

It was won by the Cleveland firm of Bashein & Bashein. Their plan is to donate the bell to the William G. Mather Marine Museum on the Cleveland waterfront for general public viewing.

GLMI would like to thank all who participated in the auction for their support. Funds raised by the auction will go to support the Institute.

Item
One large bronze ship's bell labeled City of Cleveland
It is about 30 in. in diameter at the base and weighs approx. 600 lbs. It is mounted on a yoke that has four steel supports.

History
This bell was cast in 1907 at the Buckeye Bell Foundry by the E.W. VanDuzen Co. of Cincinnati, Ohio, one of the largest bell producers in the U.S. It was installed on the sidewheel overnight passenger steamer City Of Cleveland built by the Detroit Ship Building Co. in Wyandotte, Michigan in 1907. She was one of the Detroit & Cleveland Navigation Co. fleet, (a D&C boat).

Because of a fire in her cabins during fit-out at the shipyard, her maiden voyage was delayed a year. She was renamed City Of Cleveland III in 1912. On June 26, 1950 the Norwegian freighter Ravnefjell collided with her off Harbor Beach on Lake Huron. Four persons lost their lives but the ship was

able to proceed to Detroit.
She never sailed again and was scrapped in 1956. The bell was purchased as salvage and has been out under the trees at a private residence for the past 50 years.
Available For Inspection
Saturday & Sundays from 11-5 at the Dossin Great Lakes Museum, 100 Strand Drive on Belle Isle, Detroit, Michigan 1-313-852- 4051